Possession of heavy weapons 2014 in comparison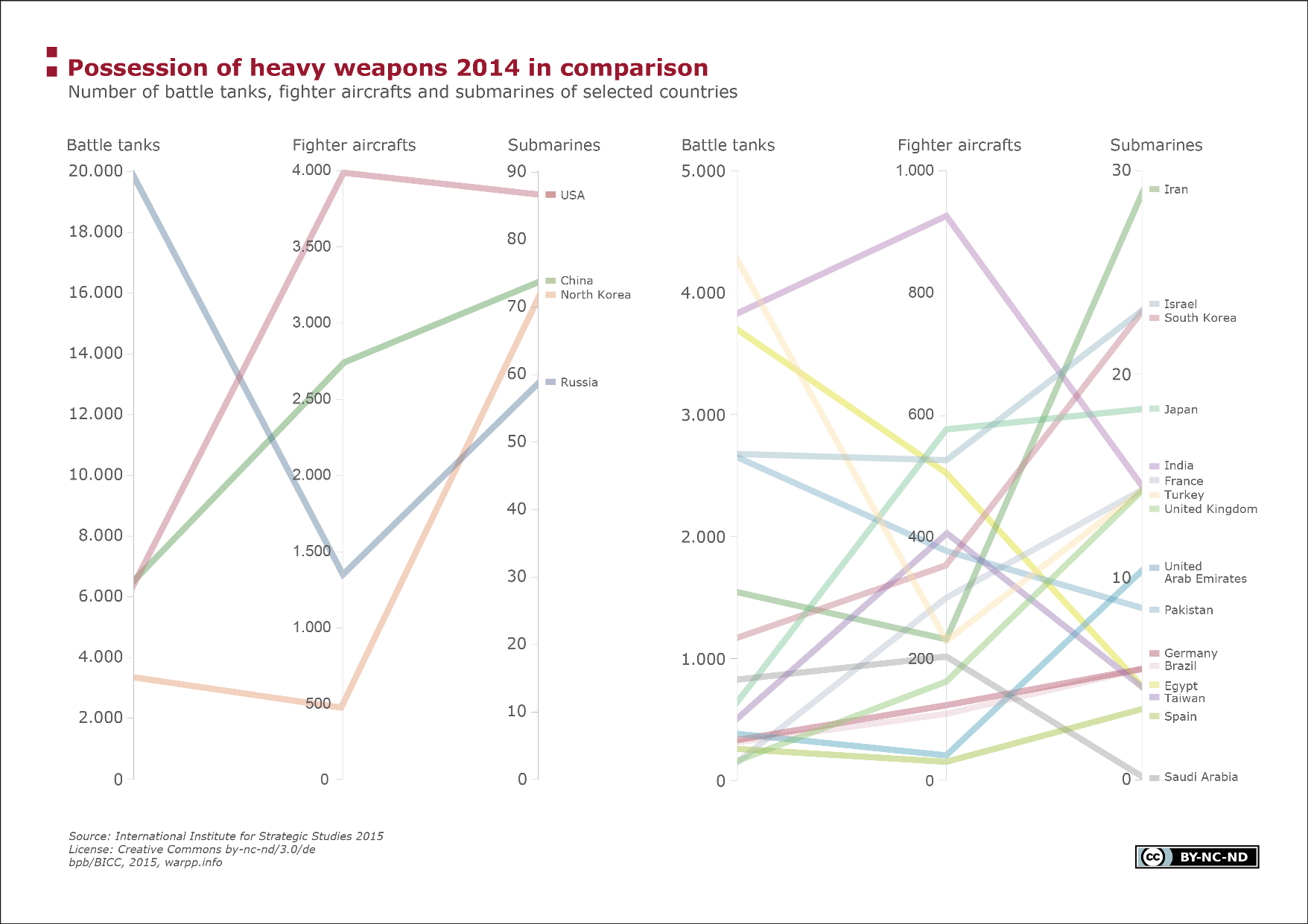 The figure shows the possession of battle tanks, combat aircraft and submarines by 20 countries in 2014. The first vertical axis shows the number of battle tanks, the second the number of combat aircraft and the third military submarines. For each of the 20 countries, the number of heavy weapons systems is linked by a coloured line. The maximum values of each axis are determined by the highest amount of each category.
Facts
Today, heavy weapons systems, such as battle tanks, combat aircraft and submarines, but also warships and missiles are still are at the core of modern armed forces. They are so-called conventional weapons that can also be used as means of delivery for non-conventional weapons.
The importance of combat aircraft, in particular, has risen steadily in the last six decades. They are used in current wars and conflicts, such as in Syria, Afghanistan and the Horn of Africa. Even though the importance of battle tanks is decreasing in Western Europe and other Western countries, other countries still consider them to be an important strategic weapon. The sale of 270 Leopard 2 tanks to Saudi Arabia may serve as an example for this. The importance of international waterways has increased markedly with the global trade network. Not only vessels of war but also submarines are deployed there. While only Russia, France and the United States possess nuclear-powered submarines, the demand for conventional submarines from Russia and western European countries, such as Germany, France, Sweden and Spain is also growing in the international markets.
The figure shows that the United States, China and Russia are the three most militarized countries and that their arms holdings are much higher than those of other countries.
Terms, notes on methodology or reading aids
When selecting the countries, we made sure that those with the most weapons of a category are included. We selected the top 11 countries with most battle tanks, the top 16 with the most combat aircraft and the top 14 of submarines. We added Germany and Brazil to this selection.
Heavy weapon systems are larger equipment that is used in immediate combat and integrate various military requirements in one system (movement, firepower, etc.). Examples are tanks, helicopters, fighter planes, submarines, missiles and warships. These systems differ from small arms and light weapons (SALW) that can be carried by one or two persons and from non-conventional weapons, such as nuclear bombs or poisonous gas.
The purpose of these aircraft is mainly to destroy a target on the ground or another aircraft; they are equipped accordingly. Combat aircraft can also take over other military tasks, such as reconnaissance. One distinguishes between three different purposes: purely air-to-air defensive fighters (fighter planes), air-to-air and air-to ground capable combat aircraft (fighter-bomber aircraft) and air-to-ground aircraft (bombers). To attack targets, these aircraft can be armed and equipped with missiles, rockets, bombs, machine guns, aircraft cannons or other weapons of destruction.
Besides infantry fighting vehicles and armoured transport vehicles, battle tanks are the most common heavily armoured vehicles. They often move on treads and are armed with a movable tank gun on a swivelling turret. Battle tanks have an unladen weight of at least 16.5t, the tank gun can be armed with at least 75mm rounds of ammunition.
Military submarines are used in battle, for deterrence, reconnaissance and supply. As they can operate while hidden and are only difficult to spot by the enemy, they are of particular interest to the military.
Depending on their use, submarines differ in their drive type, size and weapons. Nuclear-powered submarines can stay a number of months below water due to their self-sufficient energy supply; other drive types are very quiet and thus allows submarines to remain undetected for longer.
Data sources
IISS (International Institute for Strategic Studies) Data on military personnel are published annually by IISS ((International Institute for Strategic Studies) in The Military Balance. With research being central to IISS activities, its experts deliver impartial policy advice on military and strategic issues. In its annual publication The Military Balance, it provides information on the number of service personnel, weapons, population and GDP for 171 countries. It mainly provides detailed and differentiated lists of weapons and soldiers (including recruits and paramilitaries) per country. The Institute also evaluates military capacities and arms economies.