German Participation in UN Missions 2000 to 2014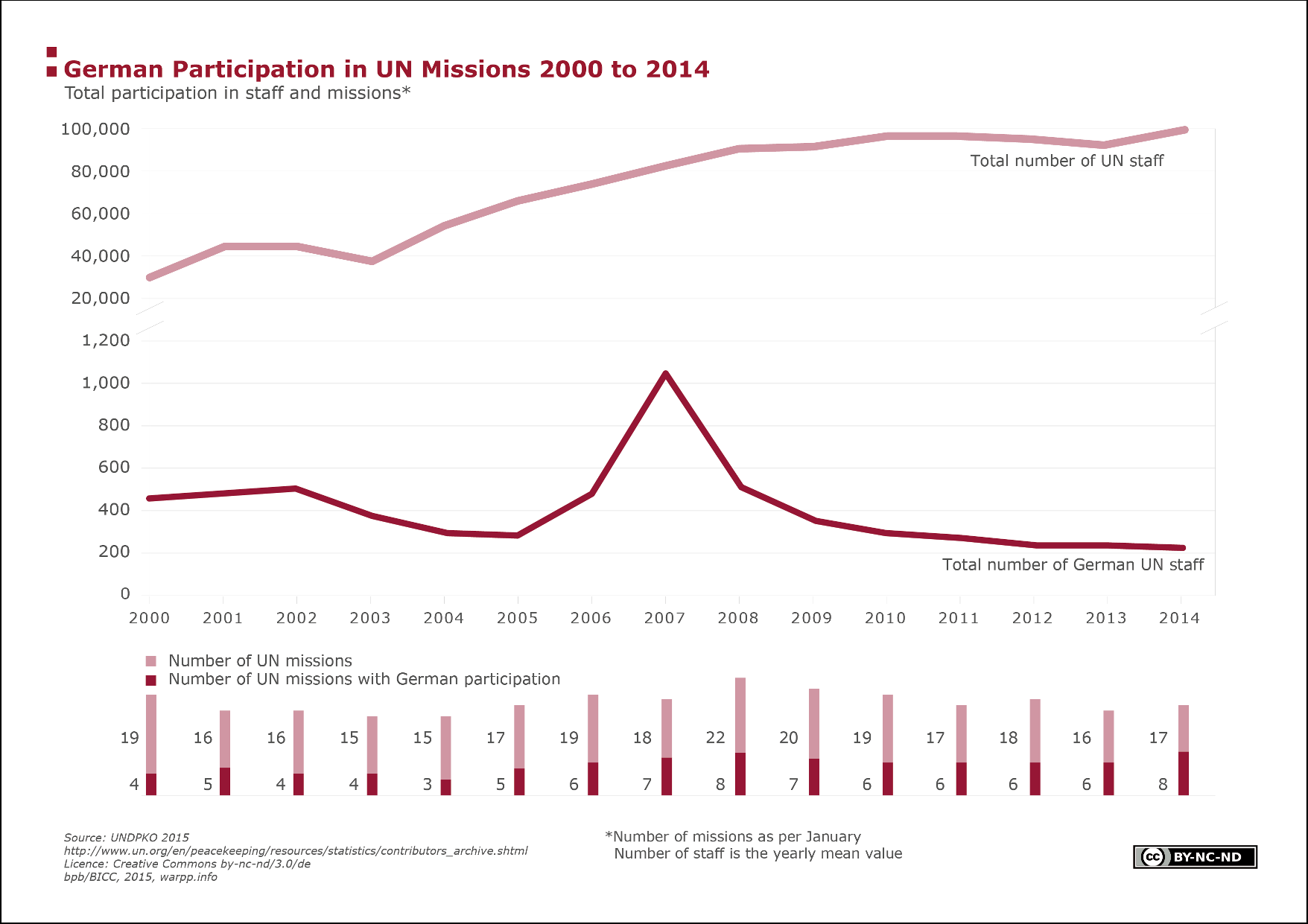 The graph on the German participation in United Nations peacekeeping operations is twofold. The upper graph shows two curves representing the number of police and military personnel as well as military experts for the years 2000 to 2014; the upper curve shows the total of personnel made available, the lower curve the number of personnel made available by Germany.
The lower graph shows the number of UN missions in a year and the number of missions that Germany was involved in in two-tone columns.
Facts
In 1948, only three years after the foundation of the United Nations, the UN decided on its first peacekeeping mission. The UN Truce Supervision Organization (in the Middle East), together with the UN Military Observer Group in India and Pakistan (UNMOGIP) are the oldest and longest United Nations peacekeeping operations in history. SInce then, the UN have decided to send out more than 60 other peacekeeping, peacebuilding and peace-enforcing missions. As peace-enforcing missions do not necessitate approval of the respective government of the country of deployment, the UN Security Council only rarely decides on such a mission; they also do not count as peacekeeping operations. One such example is the International Security Assistance Force (ISAF) that took over the responsibility for securing Afghanistan 2001 to 2013.
When viewing the curve charts, one notices that as of 2003, an initially sharp increase in total personnel occurred that lasted until 2010, then flattened out somewhat before personnel strength of UN peacekeeping operations reached another high with 100,110 in 2014. German participation in UN missions was at a significant high in 2007 with more than 1,000 police, military staff or military experts before it evened out in 2012 and onwards to just over 200, reaching its lowest point of the period under review in 2014 with 218 staff.
Terms, notes on methodology or reading aids
Peace missions have come to the public's attention as UN peace operations. Meanwhile, there are many more actors, such as the European Union, the Organization for Security and Co-operation in Europe (OSCE), the Organization of American States (OAS) or the African Union (AU). Often, international alliances only intervene in their member states The goal of peacekeeping operations is to prevent further conflicts by separating the conflict parties or by monitoring compliance with agreements, for instance. Often, they are multidimensional operations during which various measures, such as political support and institution-building (police, military) are combined. To represent personnel strength, the respective figures for January of police and military staff as well as military experts were used. These figures do not contain figures for civilian staff or volunteers.
Data sources
UN DPKO (United Nations Department of Peacekeeping Operations) On behalf of the UN Secretary General, the DPKO leads the peace forces of the Member Countries during monitoring missions and peace operations. On the websites of UN DPKO one can find data on past and current peace operations.